Slip Ring for Optical Equipment
Common photoelectric Equipment includes military photoelectric equipment, civil used surveillance equipment, industrial optic manufacturing and testing devices, medical optical equipment and various office optical scanners. Among these applications, many rely on slip ring to transmit signal and power while maintaining a 360°rotation. JINPAT Electronics is an established slip ring corporation with solid technology strength. JINPAT has developed hundreds type of slip rings which are now applied in various sophisticated military and civil field.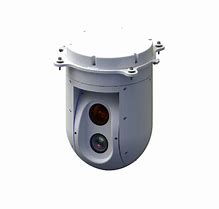 Take military photoelectric pod for example, JINPAT has developed a series of product. Among them, LPC-3402-46S-HD01 and LPMS-44S/60S/80S are very representative. They can be used to transmit photoelectric signals of general optical camera, infrared video, high-definition video and so on.
Faced with demand for industrial photoelectric applications, JINPAT has come up with various rotary joints whose typical representatives are LPC-76A-0610-0107-0405-0602-18S and LPC-36A-1702-05S-E3. Since the naming of JINPAT product says about the product's parameters, we could that the former has 35 channels while the latter only 23 channels. Both of them have 17 channels for signal transmission. So as to say LPC-76A-0610-0107-0405-0602-18S has 18 signal channels while LPC-36A-1702-05S-E3 only has 5. To avoid interference between current channels and signal channels during operation, these two models take up shielding structure.
LPC-3402-46S-HD01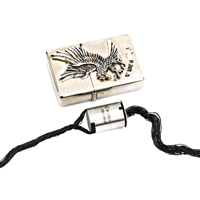 LPMS-44S
Besides, for special machine visual equipment, JINPAT has developed a series of slip ring models that purposely designed for USB signal transmission. The typical examples are LPC-24A-U3, LPT020-U2 and LPC-56A-08U2, etc. The former two are single-channel rotary joints used to transmit USB3.0 signal and USB2.0 signal respectively. And the last models have 8 USB2.0 channels with a great transmitting capacity. The whole JINPAT USB series slip rings are customizable, can be integrated with current channels and other signal channel. For instance USB3.0/2.0 can be integrated with Gigabit or 100m Ethernet signal.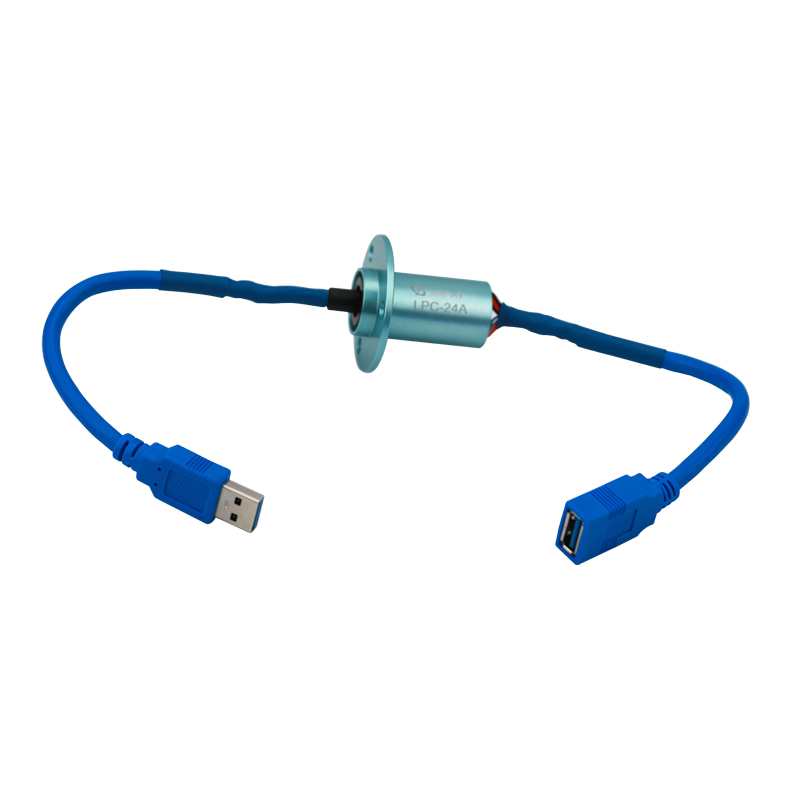 LPC-24A-U3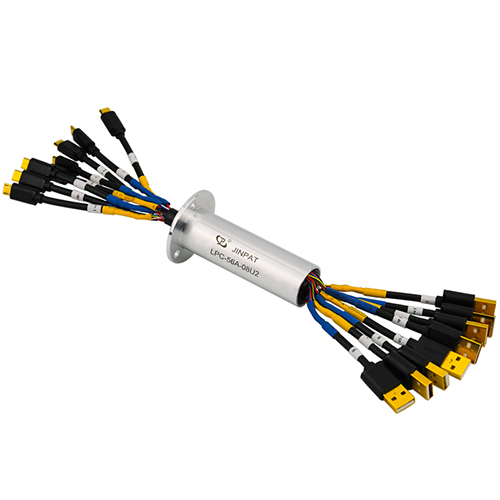 LPC-56A-08U2