Slip Rings for Entertainment Equipment
Slip rings are important component of every piece of device that demands 360°rotary electric conduction. JINPAT Electronics is an established slip ring manufacturer with over-20-year experiences. We are able to produce slip rings that answer to various requirements raised by different industries. In nowadays society where tourism is on the developing highway, large theme parks that highlight artificial entertainment sites and entertainment equipment have witnessed rapid growth. Taking this entertainment equipment as target, JINPAT has developed numerous slip ring models.
Merry-Go-Around is known for its splendid decoration and amazing combination of lighting, music and movements. It's medium/large size entertainment equipment that can take in many people at a time which is initially modified from a turntable machine. Generally speaking, there two layers in its structure. The two can't rotate at the same time. To create a delightful and relaxing atmosphere, there are colorful patterns and light bulbs on the ceiling and walls of the Merry-Go-Around as well as some audio equipment. And slip rings are here to provide transmission of the electricity and signals for the devices as the entertainment equipment rotates.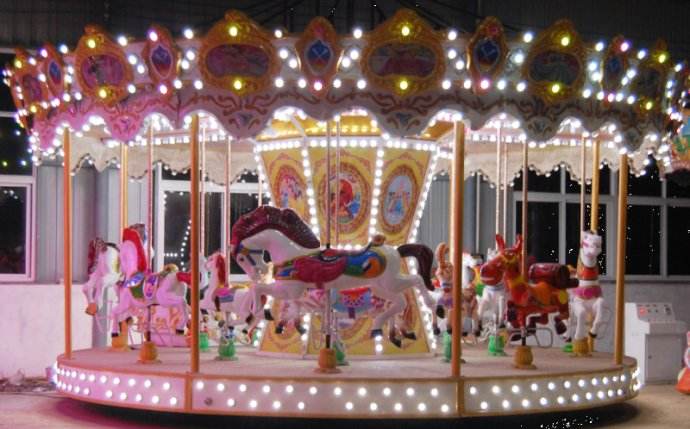 Though there are lots of light bulbs in the Merry-Go-Around, they don't add up to a large power, and thus do not need large current slip ring. The equipment only requires integrated channel for audio signal. No doubt, slip rings should be chosen according to the actual applied Merry-Go-Around. JINPAT Electronics has designed a series of products especially for entertainment equipment with the through-bore rotary joints as the main products. The maximum bore diameter is 120mm, transmits current that ranges from 5A~500A with multiple channels.
There multifarious entertainment equipment. To level up the thrill, many of them are integrated with manual control system. While rotating in 360 degree, these equipment also need signal transmission. Basing on different entertainment equipment, JINPAT adopts different signal transmitting method. The most common method is through using 100M Ethernet or Gigabit Ethernet. And as for other signals, twisted pairs or other special wires are applied.